Share
Regular price
Sale price
£6.00
Unit price
per
Sale
Sold out
Choose this option to add extra sparkle to your stunning Bling Blooms' arrangement. Diamanté give that extra shine as they absorb the light from your home surroundings producing that eye catching sparkle. Available as one of our many options to further personalise your infinity rose or faux flower gift.
Dependent on the your chosen finishing touches, the diamanté will be either silver or gold to match and complement the design.

This option is for arrangements where a diamanté is required in each rose for arrangements is 9 flower heads. For a more random pattern choose the scattered option.
Please choose at order time from the many options available to make your gift truly unique.
Not available stand-alone.
Sizing

As the roses are a natural product their size can vary and therefore the number of roses in each arrangement may vary, but it will always be full of beautiful roses.

All Artificial Silk Bouquets are approx widths.

Diamanté sizing may vary from pictures. But please be assured our designers will always ensure the desired sparkle is achieved
Care Instructions

Silk Flowers: Dust or wipe clean with a soft cloth.

HOW TO CARE FOR YOUR INFINITY ROSES 

Our infinity roses are real roses that have been specially treated to last longer and require no maintenance. ​However following the simple instructions below will ensure your roses retain their colour and avoid premature ageing and accordingly should last at least a year.

Keep them out of direct sunlight.
Do not subject them to excessive cold or hot temperatures.
Do not put anything on top of your roses, or drop them, they are as delicate as real roses.
Our infinity roses are presented in gorgeous hat boxes or makeup box organisers, or other containers. They are designed to remain in the box for the duration of their lifespan. Do not attempt to remove them.
Do not water your roses. The special preservation of your flowers means that they are automatically fed through the natural moisture in the air.
Do not allow contact with water. To clean gently blow any dust away.

Infinity roses are real roses and as such will take on different characteristics during their lifespan. The first thing to note is that these roses have been stored in a cool and dark environment and have not been exposed until you remove the lid, once the lid is removed the roses will react to their new environment, their petals may open, and overtime their colour may change or fade, just like a fresh rose. It's important not to touch the roses as they are delicate and can crack and get damaged when handled. It's also highly important that you do not remove the roses from the hat box, the roses have been secured tightly and when removed are highly likely to get damaged.



 
Infinity Roses FAQ's

Below are some of our most frequently asked questions about infinity roses (also known as eternal roses, forever roses, one year roses and preserved roses), but please contact us for any additional questions or requests we are always happy to assist. 

How long will my order take to arrive?

Each arrangement is hand made to order. In periods of high demand we may require a day or two extra to fulfil your order which is why we quote standard delivery of 3-5 working days. However we will usually deliver within a couple of days. Express delivery options are available, please see our delivery page.

I don't need the gift until next week or the week after, when should I place my order?

We always advise ordering sooner rather than 'last minute'. Use the Specific Date option field at checkout to specify your day of delivery in advance. We will plan and make delivery to your preferred date.

Do you deliver outside of the UK?

Yes, we can deliver internationally. We use national and International couriers. Please contact us for rates not shown on our website.

Are Infinity roses real?

Yes, they are real roses. They are harvested at their prime and go through a preservation process that allows them to last for at least a year whilst still maintaining that luxurious feel you associate with fresh blooms. 

Do your Infinity roses really last a year?

Yes, provided you follow the care instructions card included in your arrangement they should certainly last a year. We have some customers who are still displaying their arrangements after 3 years. Don't worry if you loose the card, our care instruction are also available here

Can I choose my own colour combinations?

Yes, if you would like to combine two colours (or more) in a stripe, checker or random pattern please contact us and we will advise what's possible based on the arrangement of your choice. Some arrangements such as the Bloom Box have a custom option on their product page for mixing. However individual designs can also be accommodated for the classic round Hatboxes and Hearts. We occasionally produce limited editions that our designers have created which are viewable from the main menu. Please be aware that combining strong colours with lighter may after some time cause a bleeding of colours and is not advised.


Are infinity roses difficult to look after?

No, there are some simple rules to follow which are detailed on the care card included with your gift.  For your convenience you can always review the infinity rose care card instructions. But the basics are very simple

Do not water.
Do not place them in direct sunlight.
Avoid extreme hot or cold temperatures, high or low moisture levels.
Avoid handling, your roses are fragile, and are for display only.
Do not attempt to remove the roses from their containers.

Why do you state a range of roses in some of your arrangements rather than a specific number ?

The roses are natural and accordingly their size can vary even within their individual size classifications. Therefore we always state a range where applicable on each product page. Please be assured though that each flower box will always be full of blooms so your gift will look its best. 

How do I place my order?

The best way to place your order is on-line, we believe we are unique in the level of free personalisation we offer and therefore, phrases, spellings, names etc. can be directly transferred to avoid errors. You can also phone during working hours and we will be pleased to help you place the order online.

Can my roses go outside?

No. Infinity roses are for indoor purposes only. 

How long will my order take?

Next day delivery options are available for most designs. We quote our standard delivery as 3 - 5 working days. This allows for the curing time required for some of our acrylic arrangements, and also peak order periods. In most cases however orders are fulfilled and delivered within a couple of days. If you have a specific date requirement please call 07391490924 or specify on the notes at checkout so that we can confirm availability. 

Can I have my order delivered tomorrow?

Yes certainly. We have a next day delivery option which is subject to orders being received prior to 11am on the day of order and stock availability (combination of container option and rose colour(s)). Please select next day delivery at checkout. 

Can I get my order same day?

We know that it's not always possible to plan ahead. Each of our arrangements are unique and made to order, however should you have an urgent requirement please call 07391 490924 and we will do our utmost to assist. Please be aware however that you will probably need to collect your order, our postcode is DA5 1LG

I'm in a hurry / I'm local to your workshop, can I collect my order?

Yes. Please call 07391 490924 and we can discuss timings. Our post code for collection is DA5 1LG

Do you provide tracking numbers?

Yes, when your order has been fulfilled you will receive an email with the tracking reference. We use Royal Mail & Parcelforce delivery services (and their partners where destinations outside of UK are involved). For both services you should receive a text message from the courier with the planned delivery time slot.

Can I choose a Saturday delivery?

Yes, but please ensure you select the 'Saturday Delivery' option at checkout and place your order before midday on Thursday. Choosing next day delivery for an order on a placed on Friday is not guaranteed for Saturday delivery.

Do you deliver Sunday?

Not as standard. But by special arrangement we may be able to deliver to DA postcodes on a Sunday, if you require such please call to discuss.

How much does delivery cost?

All of our arrangements are delivered free of charge with our standard delivery option. Next Day / Saturday / International rates are shown on our checkout page or on our delivery page. Please inquire for International delivery rates not listed.

Are your Sample Sale arrangements the same high quality as the rest of your range?

Yes they are. The arrangements listed on our Sample Sale page are the same high quality, they have typically been used for photography on our website or are end of range or on-offs that we have developed in the workshop. With most of them you still have the opportunity to add your own personalisation . If you are not sure from the description what personalisation elements can be added please call.

What's the difference between eternal roses, eternity roses, forever roses, one year roses and infinity roses?

In short, there is no difference. The terms are interchangeable. You may also sometimes see infinity roses described as forever roses, which is strictly incorrect for this type of product, infinity roses are natural and will eventually start to fade although in our experience, if properly cared for this could be after 3 years or so. Forever roses should really describe the faux flowers such as those used in our Endless Love Hearts. These are made of 100's of tiny faux roses and will truly last forever.

My purchase is a gift, will you include an invoice in my order?

No. All arrangements are sent without any purchasing documents.

I see there is an option for a Gift Card is this different to Personalisation?

Yes the two are different, but both are included free of charge with your purchase. We refer to Personalisation as the message or name or phrase that you want displayed on the flower container e.g. front of the Hatbox or lid of a Make Up box. The gift tag is for your longer, personal greetings message and is attached to the gift with a ribbon or diamanté pin so that it can be read and then if required removed prior to display.

Are all your arrangements made in and sent from the UK ?

Yes we design and assemble all of arrangement in our own workshop based within the London area.

How many rose colours do you have available?

We currently stock over 15 Infinity Rose colours. The range currently includes 3 metallics, 3 rainbow mixes and 15 solid colours. The palette choice available for each arrangement is shown on the respective product page. Whilst we do our best to show the colours as accurately as possible please be aware that there could be some variation in shade either due to photographic conditions or the naturalness of the roses. If you require assistance prior to order please contact us on 07391 490924. If you require a colour or shade not shown, we can make a special order. 
Delivery
Contact Us
View full details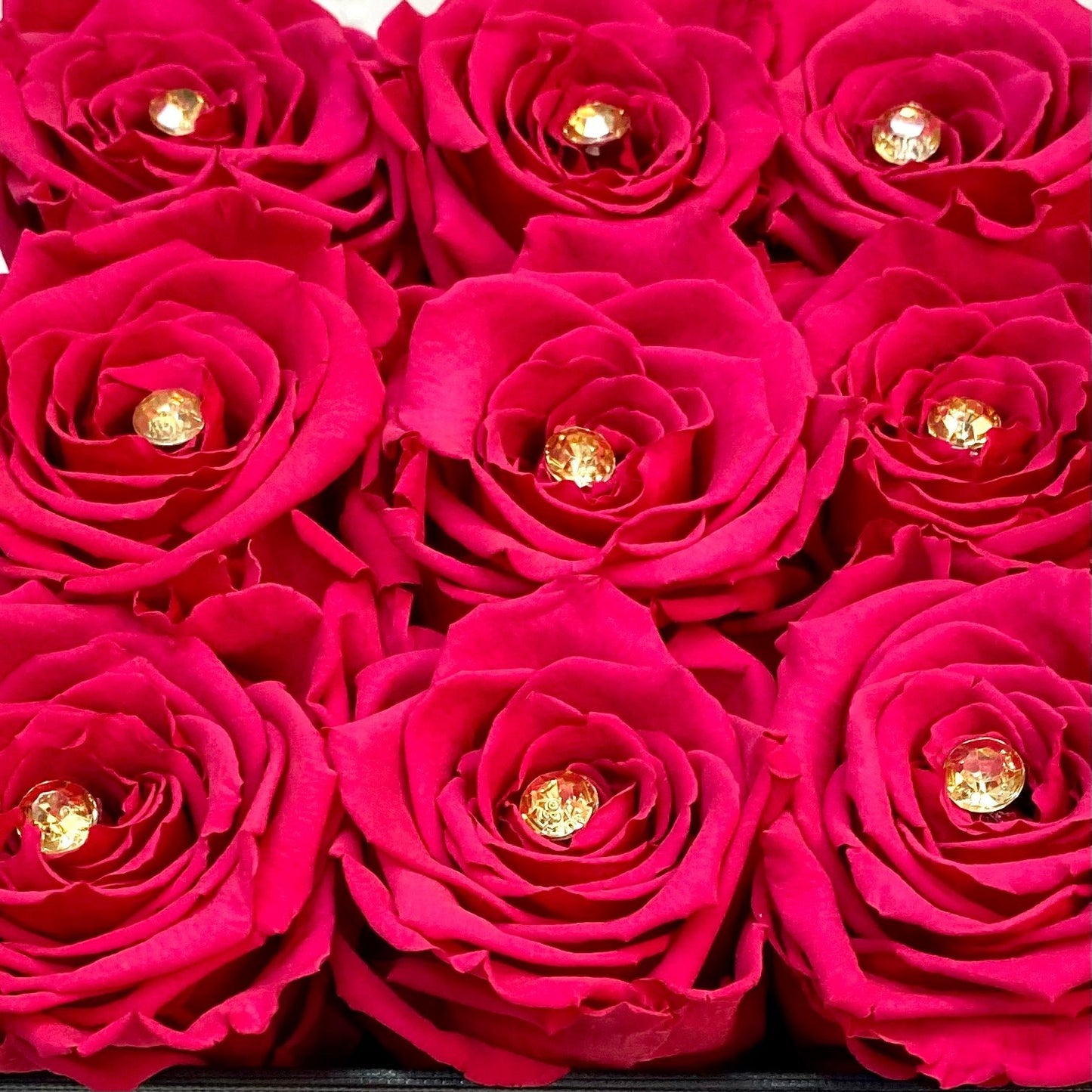 Delivery
Click & Collect
Choose a day and time then contact us at hello@blingblooms.com or 07391490924 to arrange collection of your order from our workshop.
Free Delivery (Mon-Fri) UK Mainland
Our standard delivery is 3-5 working days (special order roses will take longer so please contact us in advance)
Next Day Delivery & Saturday Delivery
Next Day Delivery* is £6.99 - order by 11am (Monday-Thursday) for next day weekday delivery.  Orders placed on Friday or the weekend will be dispatched the following Monday. Orders placed on a bank holiday will be sent out on the next working day
Specific Day Delivery is £6.99 - Choose this option in the cart to have your order arrive on this day.
Saturday Delivery is £30 - order by 11am Thursday.
Please choose and pay for the delivery option you require in the cart to ensure the correct delivery day of your parcel
 At Bling Blooms we take great care when sending your arrangement with the quality of the whole experience being of the utmost importance.
Standard deliveries aims to prepare and deliver within 3 to 5 working days from receipt of your order, this allows for any variation subject to demand and the order fulfilment process - every order is custom made to your request. However we always recommend ordering as early as possible when choosing your gift. It is always easier to schedule delivery in advance to meet your date in a couple of weeks time rather than risk last minute ordering.
We use well renowned UK national couriers to deliver on our behalf, please be aware that as with all providers of such delivery services, timeframes are stated as an aim not a guarantee.
Premium Delivery Services
Saturday and next day deliveries are available as a premium service, rates are above 

and can be selected on our checkout page at order time.

Saturday deliveries must be ordered any time before 11am on the Thursday prior to the delivery weekend.

Next day delivery is available subject 

to the order fulfilment process and normally requires orders to be placed before 11am on the day prior to delivery. Orders made at the weekend with the next day option will be delivered Tuesday.

Next day delivery does not include a Saturday service, orders placed before 11am Friday with the next day delivery option will be dispatched for Monday delivery. If you require a Saturday delivery please take the Saturday delivery option 

Next day/Specific delivery does not include bank holidays, orders placed on a bank holiday will be dispatched on the next available working day.
Specific Day Delivery does not include weekends or bank holidays
International delivery
Please contact us for international delivery rates for your destination which will be calculated based on chosen product and destination.
Shipping Terms & Conditions  
Standard Delivery - There is no guaranteed delivery time frame on our standard shipping service, the specified timeframe by Royal Mail is an aim not a guarantee.  Standard delivery orders are not sent for Saturday arrival.
Next Working Day - does not apply to orders placed after cut-off Friday or during the weekend. If you place an order before 11am and select our next working day delivery option during checkout & your order does not arrive the next working day then you are entitled to have your delivery fee refunded. If there is a delivery attempt shown on the tracking but you are not in to receive the arrangement this does not entitle you to a shipping refund as the delivery service has been attempted. 
Non Delivery - On rare occasions things do go wrong within the postal network and we can only apologise when this happens. In such circumstances please notify us for resolution. There is a process that needs to be followed for this to happen.  Dependent on service selected. Our courier has a set number of working days that have to pass before we are able to declare an item as missing, when we are able to do this, you will be compensated for the missing item in the form of a re-shipment.
Adverse Weather Conditions - Bling Blooms cannot be held responsible if a delivery is delayed or does not arrive on a specified day due to adverse weather conditions.
Force Majeure - Unforeseeable circumstances. Bling Blooms cannot be held liable for any failure in delivery due to any event that is seen as an act of god and therefore beyond either parties control.
Contact us
We love hearing from existing and prospective customers so if you would like discuss having something made entirely bespoke, have any general queries or would just like to discuss your order, please contact us via email, our social channels or telephone using the details below.
So that we may answer you as quickly as possible please note the following:
If your enquiry is regarding an existing order, please remember to include your Order number so that we can respond efficiently.
You can also use our live chat, which is available 24x7 however please note that out of hours and during busy periods our team may not be able to respond immediately. `But if you send an email we will able to get back to you immediately.
And finally, our Frequently Asked Questions page is a great source of knowledge about what we prepare your gift and how to care for your beautiful infinity roses so that they last at least a year. FAQ's are continually being updated due to new questions we received, so even if you've looked before, you may find the answer to your query has already been added to that page. 
Email: hello@blingblooms.com
Telephone: 07391 490924
Contact us via social: @blingblooms
We love seeing photo's of your arrangements, follow us on
Instagram
and
Facebook
 and tag us using @blingblooms.
Our address for collections is
The Old Brewery Stables, Unit 5D, 5 Bourne Road, Bexley DA5 1LG